Yesterday was primary day in New York.  The stakes weren't very high for Democrats, as Joe Biden was already the party's presumptive nominee and we won the NY primary handily.  But Republicans in NY-19 had to choose between Ola Hawatmeh and Kyle Van De Water to face incumbent Antonio Delgado his November.  So far the race is too close to call but Hawatmeh leads with 5,502 votes to Van De Water's 5,037 with absentee ballots yet to be counted.  As you can see, the turnout in this Trump +7 district was tiny, in part due to the pandemic, but also likely due to a lack of enthusiasm among Republicans.  Keep in mind that Hawatmeh has $226K on hand, Van De Water has a measly $2K on hand, and Delgado sits on a war chest of $2.7M.  Whoever challenges Delgado is going to be fighting an uphill battle for attention.
The coronavirus continued to set records yesterday in several states.  Outbreaks in Florida, Arizona, Texas and Utah are straining hospitals and ICU beds while numbers continue to climb in California and Oregon.  Paul Krugman of the New York Times posted a graphic on Twitter last night with the caption, "America's disastrous pandemic response, in one picture"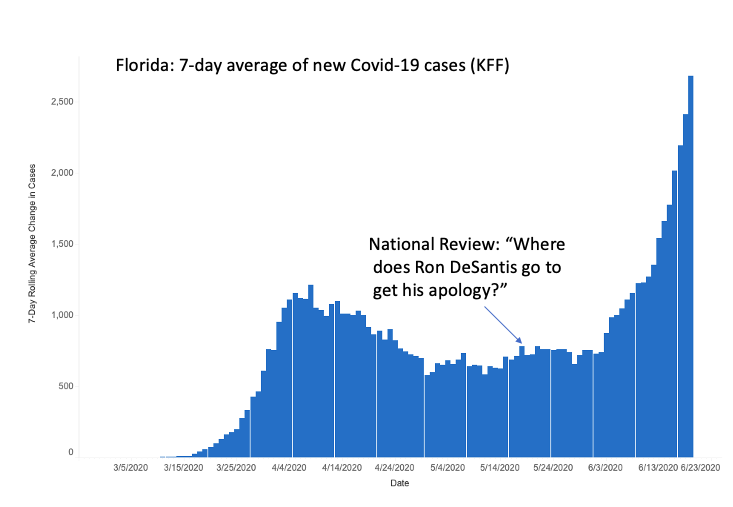 For the first time in weeks, the presidential advisory board spoke to the public, though the venue was a Congressional hearing.  Doctor Fauci noted with concern that several states were seeing "community spread" of the virus not unlike the situation we faced in New York City, and urged people not to gather in groups, especially indoors, and especially in situations that lent themselves to talking loudly, laughing or screaming–such as the political rallies that Trump has been having.  He pleaded with viewers to wear masks whenever in public.  As Rachel Maddow pointed out last night on MSNBC, the only two indoor mass-gatherings to occur in any advanced nation in the past four months have happened here in the United States, both orchestrated by the same person, Donald Trump.  No wonder the EU is considering banning Americans from European travel for the foreseeable future!
Big news also broke yesterday on another Congressional front.  A former career lawyer for the justice department is scheduled to testify before Congress today at noon on undue influence he experienced while prosecuting the Roger Stone case.  His name is Aaron Zelinsky and here is an excerpt from his opening statement:
What I saw was the Department of Justice exerting significant pressure on the line prosecutors in the case to obscure the correct Senetencing Guidelines calculation to which Roger Stone was subject — and to water down and in some cases outright distort the events that transpired in his trial and the criminal conduct that gave rise to his conviction.  Such pressure resulted in the virtually unprecedented decision to to override the original sentencing recommendation in his case and to file a new sentencing memorandum that included statements and assertions at odds with the record and contrary to Department of Justice policy.  What I heard — repeatedly — was that Roger Stone was being treated differently from any other defendant because of his relationship to the President.  I was told that the Acting US Attorney for the District of Columbia, Timothy Shea, was receiving heavy pressure from the highest levels of the Department of Justice to cut Stone a break, and that the US Attorney's sentencing instructions to us were based on political considerations.  I was also told that the acting US attorney was giving Stone such unprecedentedly favorable treatment because he was "afraid of the President."
Here's a link to the complete statement:
https://www.washingtonpost.com/context/read-aaron-zelinsky-s-opening-statement-to-the-house-judiciary-committee/c8d10cfa-3de6-4dc5-93a1-0254593a11b6/
Zelinsky's troubling disclosure paints of picture of Barr's DOJ as an engine of favoritism and corruption, and is yet another very good reason that our leaders should investigate Barr and consider impeaching him for abusing his power.  Today's hearing could be a real game changer.
Keep resisting and keep working to "vote his ass out of office."