More bad news on the spread of the coronavirus.  The pandemic is surging once again in the United States, with the seven-day rolling case average once again rising toward its all time highs.  At least a dozen states continue to see record-high new cases and while the United States has 4% of the worlds population, we have over 20% of the world's coronavirus cases.  Days ago VP Mike Pence was assuring Republicans that the virus was on the wane but recent numbers are proving him tragically wrong.
Many of the spiking states have recently relaxed their quarantines–if they ever had a quarantine to begin with–and increased testing does not account for their increase in cases.  It's full blown community spread.  Here's the latest graph from the Covid Tracking Project showing how poorly the USA has done compared with many other countries.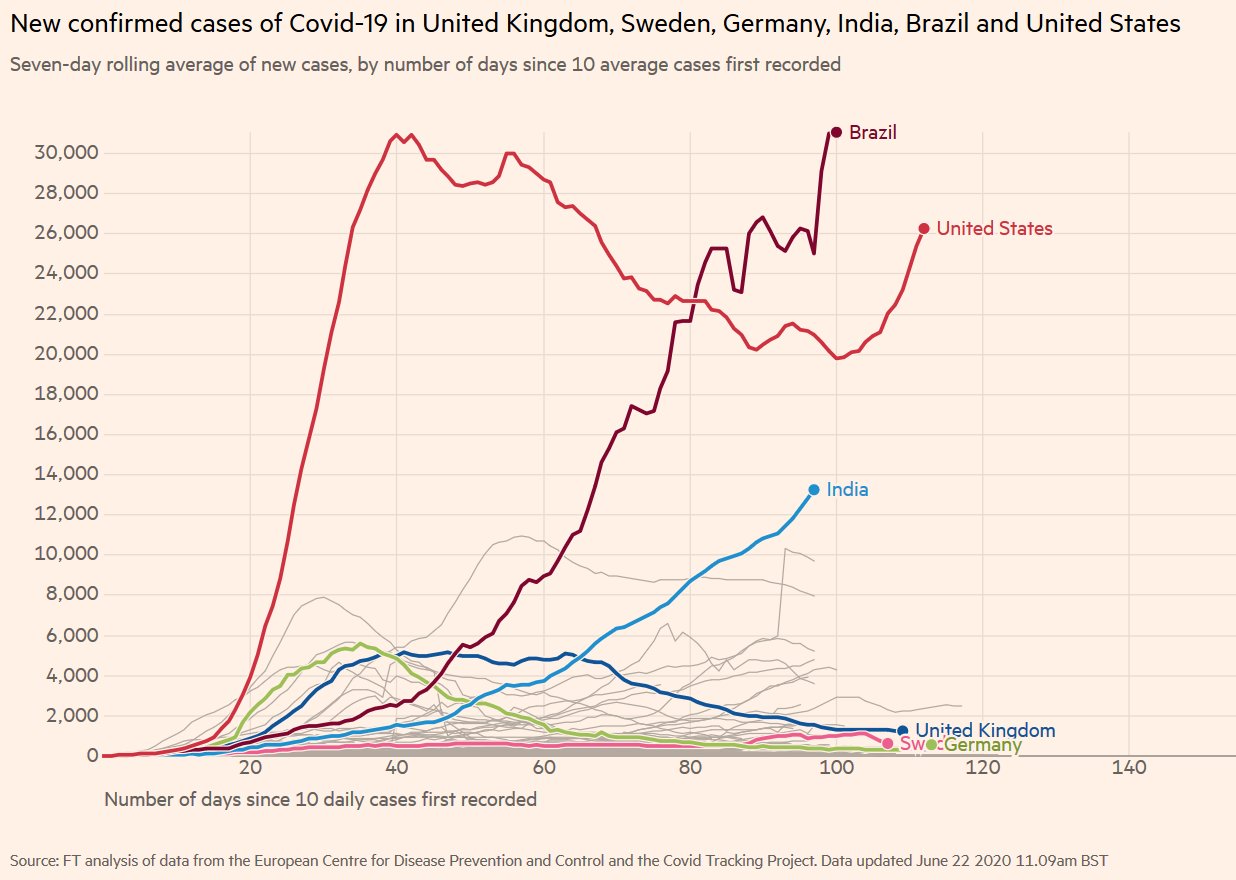 The graph also shows that our "first wave" never really went away, it only plateaued before starting skyward again.  The main thing that separates us from other advanced countries is the utter incompetence of our federal response.  We really didn't have one. For two months Trump dismissed the virus, then made a lot of noisy promises, none of which came through, and then in frustration, he punted to the states and gave up.  As a virologist said on cable news last night, coronavirus in the United States remains a raging fire. It has become endemic.
A different category of hot-spot is happening due to climate change.  In addition to the horrifying temperatures being experienced in the Siberian Arctic, the East Coast has been locked in a historic heat wave for the past week, producing higher than average temperatures both day and night.  It was reported yesterday that Lake Champlain recorded its highest lake-water temperature ever for the month of June, 77 degrees, which is only 1 degree away from the all-time lake-water temperature ever recorded.  Normally Lake Champlain doesn't reach peak temperature until late July or August, so to reach 77 degrees in the third week of June is historic and troubling.
It's impossible to over-stress the importance of voting out Trump and the Foxpublicans this November.  We've already lost four valuable years in the fight against global warming and we can't afford another minute.  Our oceans are warming rapidly, our domestic oil fields are leaking a massive amount of methane, the methane trapped in permafrost is being released at rates far higher than scientists thought possible only a few years ago, the biomass of insects in Europe (and likely everywhere else) has gone down 80% in the past 25-30 years, we are seeing 500-year fires regularly in California, Australia, the Amazon–I could go on.  This is truly a climate emergency.
We also face a law-and-order emergency.  AG Bill Barr has corrupted the Department of Justice and hollowed out the Federal Prosecutor's Office in DC.  Now he's trying to corrupt the US Attorney's office in Manhattan, having fired US Attorney Geoffrey Berman over the weekend.  But Congress is trying to fight back.  Rep Nadler has scheduled Berman to testify in a hearing tomorrow, and Nadler's Judiciary Committee is reportedly about to subpoena AG Barr to testify, withholding the DOJ budget in order to compel Barr to show up.  Stay tuned.
Today the mid-hudson region including Dutchess County will begin "Phase 3 reopening" according to Governor Cuomo's reopening plan. Phase 3 includes restaurants, food services and bars with indoor dining, as well as non-hair related personal care.  Check out this link for more info:
Keep resisting Trump and keep working to "vote his ass out of office."