Americans are finally waking up to the true scope of the coronavirus outbreak after a weekend of sobering news. Cases continue to rise and states are now taking actions that seem drastic yet entirely appropriate if we are going to keep the outbreak from spreading unchecked.  New York City is closing all of its schools for at least a month and all bars and eat-in restaurants will close on Tuesday, serving take-out and delivery only.  Theaters, nightclubs and cinemas will also be closed.  And these measures make sense.  The only tool we have to keep the spread from skyrocketing is "social distancing" or "physical distancing," meaning keeping ourselves isolated from other people as much as possible to limit the possibility of contagion.  It's like a very painful cultural reboot.
By slowing the spread of the virus, we buy time.  Time for hospitals to ramp up their supplies and find extra capacity.  Time for testing to become widespread and robust.  Time for anti-viral treatments to be developed.  And we keep the hospital system from becoming overwhelmed.  Consider the case of Ireland, whose population is 4.8 million.  If a quarter of their citizens get the virus, which is what many experts say could happen, that's 1.2 million cases.  Of those, 20% would need hospitalization, or 240,000.  And of those, a quarter (or 5% of 1.2 million) would need care in an ICU, or roughly 60,000 Irish citizens.  Yet Ireland has less than 300 ICU beds.  So over 59,000 could potentially die if the virus went unchecked there.
In the United States, our system is a bit deeper.  We have as many as 64,000 general ICU beds and another 50,000 specialized ICU beds.  But if a quarter of our population became infected with Covid-19, that would be 83-million people.  And 20% would need hospitalization, which is 16.6-million.  And a quarter of those cases would need an ICU, which is 4.1-million.  That's 36 patients for every ICU bed–not taking into account the other emergencies that happen in daily life.  So if the virus spreads rapidly without any societal counter-measures, a worst-case scenario could have millions of Americans dying in a relatively short period of time.  It all goes back to the exponential growth of unchecked viral outbreak.  A week ago, when the number of known cases in the United States was 1,000, we posted this graphic:
As of last night, we were at 3,847 known cases.  So thanks to increased testing we find that we are now at least at day 12 of that chart–but experts say we could be at day 36 or 42 because testing is far less than it should be and there are still more cases undetected than detected.  And that's why social distancing is so important to do NOW.  Here's a great graphic on the effects of social distancing from @evokerr on Twitter: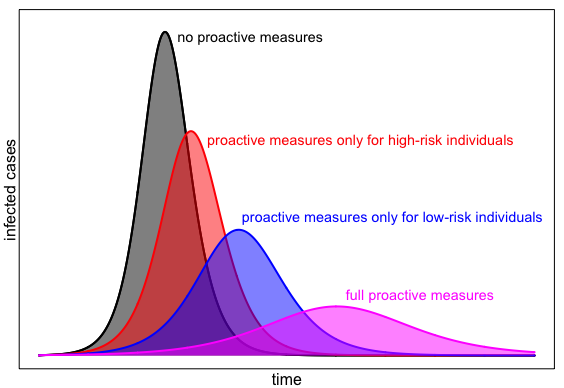 Social distancing is manageable for some, but extremely difficult and painful–if not disastrous–for others.  Small business owners and food service proprietors who depend on retail foot traffic are going to lose a lot of money.  Hourly employees who can't go to work are going to have no income.  Giant industries like travel and tourism are going to suffer.  And people in essential jobs like health care, pharmacy, waste disposal, grocery, trucking & supply chain will have to protect themselves on the job.  We'll need to reach out to our neighbors and find ways to pitch in and help those around us in the safest way possible.  Remember: the more social distancing we do NOW the faster the crisis will pass and the fewer of our friends and neighbors will get sick. Always be asking, "how can I do this with the least amount of human contact."  And wash your hands, thoroughly and often.  
We'll also need to urge our elected reps to pass laws helping those most in need.  As usual, we can expect push-back from Republicans on any bill designed to help the most vulnerable of our citizens.  The stimulus bill recently negotiated between Speaker Pelosi and the Trump regime exempted large employers from paid sick leave and let employers with less than 50 employees seek an exemption because heartless Republicans insisted and the Democrats decided something was better than nothing in a time of crisis.  We have to do better.
As we confront the coronavirus together, let's keep resisting Trump and keep working to "vote his ass out of office.'