A lot of strange and troubling news broke over the weekend.
It seems that one of Rudy Giuliani's indicted stooges in the Ukraine scandal, Lev Parnas, has begun cooperating with Federal officials (presumably because he's guilty and is looking for leniency) and reports have been surfacing that he had audio, photos and videos of Giuliani and Trump that he turned over to prosecutors.  It's not clear if his materials contained anything incriminating, but it's a notable reminder that the impeachment inquiry is not yet over and there may be a few more consequential chapters ahead that nobody foresaw.  In particular, it was apparently claimed by Lev Parnas that Republican Rep Devin Nunes met with officials in Ukraine to try to dig up dirt on Joe Biden for Trump, an allegation which could mushroom into a huge scandal for Nunes if true.
It's also fair to wonder when Trump lawyer Rudy Giuliani is likely to be indicted.  Speculation has been mounting that his indictment must be imminent, especially considering all of last week's testimony in the impeachment inquiry that put Rudy at the center of a very shady effort to extort Ukraine.
It was reported yesterday that Trump fired the US Secretary of the Navy, Richard Spencer, in the wake of Trump's pardon of Navy SEAL and war-crimes convict Eddie Gallagher.  Spencer was resisting an effort by Trump to reinstate Gallagher, whose vile crimes were so bad that his own men turned him in.  Spencer penned a termination letter that is as subtly critical as it is courageous.  Here's an excerpt:
As Secretary of the Navy, one the most important responsibilities I have to our people is to maintain good order and discipline throughout the ranks. I regard this as deadly serious business. The lives of our Sailors, Marines and civilian teammates quite literally depend on the professional execution of our many missions, and they also depend on the ongoing faith and support of the people we serve and the allies we serve alongside.

The rule of law is what sets us apart from our adversaries.  Good order and discipline is what has enables our victory against foreign tyranny time and again, from Captain Lawrence's famous order "Don't Give up the Ship", to the discipline and determination that propelled our flag to the highest point on Iwo Jima.  The Constitution, and the Uniform Code of Military Justice, are the shields that set us apart, and the beacons that protect us all.  Through my Title Ten Authority, I have strived to ensure our proceedings are fair, transparent and consistent, from the newest recruit to the Flag and General Officer level.

Unfortunately it has become apparent that in this respect, I no long share the same understanding with the Commander in Chief who appointed me, in regards to the key principle of good order and discipline. I cannot in good conscience obey an order that I believe violates the sacred oath I took in the presence of my family, my flag and my faith to support and defend the Constitution of the United States.
Full letter:
https://www.cnn.com/2019/11/24/politics/read-navy-secretary-richard-spencer-resignation-letter/index.html
Spencer seems to make the case that Trump does not support the rule of law and is thus no longer congruent with Spencer's understanding of what makes our military special and our Constitution important.  In other words, "I won't go along with a guy who pardons vile criminals. It sends a destructive message."  Indeed.
It was also noted this weekend that billionaire and former New York Mayor Michael Bloomberg has officially joined the race for the Democratic nomination.  He's already flooding certain cable shows with minute-long ads, and hired a former top executive at Facebook to head his social media ad campaign.  It's been reported that Bloomberg is ready to spend more than a half-a-billion dollars on social media ad buys, a staggering amount, much of which will attack Trump.
In local news, a great crowd turned out last Friday in Kingston for the "Nobody is Above The Law" protest.  Dozens of activists, many with banners, gathered to let commuters and local residents know that many in our area support the impeachment of the most corrupt president in modern US history.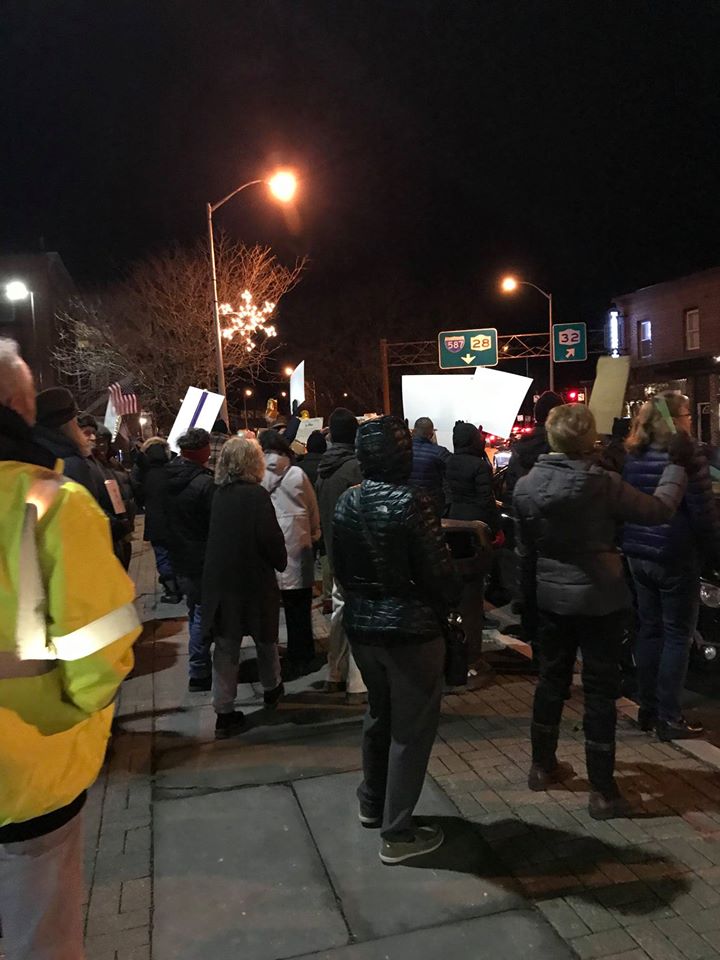 Keep resisting Trump and keep working to "vote his ass out of office."