One week from today is election day and it's important that everyone get out and vote.  Local elections matter for a variety of important reasons.  They impact our local zoning regulations, certain local revenue streams, and local schools and hospitals.  Local elections also create momentum and boost morale for national elections, giving the winners a media bullhorn to promote policy and other candidates.
New York has made it much easier to vote by authorizing and organizing early voting around the state.  Every day this week there will be early voting sites open in every county where voters can go to cast their vote at their convenience.  Here's info on early voting in Dutchess County: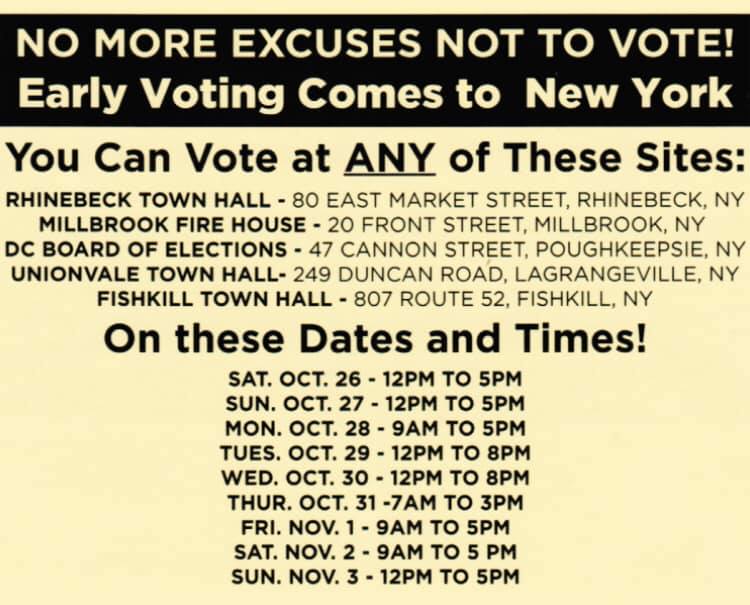 Nancy Pelosi announced yesterday that the House will vote on an impeachment resolution this Thursday, raising the stakes and making official what has been underway already in the House.  This is an example of national politics that reaches us on a local level. Rep Delgado went on record supporting the inquiry and national Republican groups continue to push their voters to call Delgado and urge him to vote against an impeachment inquiry, characterizing the inquiry as a "witch hunt" and a "fraud" despite the fact that Trump himself admitted to abusing his power.
Politicians are empowered by public support and outcry.  It's important that Rep Delgado continue to get calls of support from us on impeachment, and it's also important to support Delgado and the impeachment inquiry on social media.  Republicans live in a Fox Network bubble and don't always know exactly what Trump is accused of doing.  But when Trump goes to a World Series game and is roundly booed and jeered, it shows that a huge portion of America are horrified and outraged by Trump, which draws attention and might put a few cracks in the Fox media bubble, especially when local activists follow up with facts.
Please make time to vote, and recruit your friends to vote.  It's important, and it's good practice for the day we get a chance to "vote his ass out of office."
REMINDER – There's a fundraiser for Democratic candidate for Dutchess County Executive Joe Ruggiero at Tomas Tapas in Wappingers Falls TONIGHT at 6:30pm.