With the midterms fast approaching, here is a simple summary of events & actions around the district this weekend:
Delgado will be holding TWO town halls today, one in Hoosick Falls at Noon and one in Kinderhook at 6pm.  He'll also be holding a Meet & Greet in Averill Park at 2:30pm, and he'll be attending the Goold Orchards Apple Festival at 4pm in Castleton-on-Hudson.  You have plenty of chances to catch up to him and say "hello", unlike No Show Faso who never lets voters know where he will be.
There will also be phonebank and canvass actions in the following towns:
New Paltz – 10am
Kingston – multiple times
Hyde Park – multiple times
Monticello – multiple times
Stone Ridge – multiple times
Rhinebeck – multiple times
Catskill – multiple times
Callicoon – 11am
Sidney – 11am
Ellenville – Noon
Nassau – multiple times
Hillsdale – noon
Valatie – 12:30pm
Oneonta – 2pm
For details and signups, click this link to Delgado's event page:
https://events.mobilizeamerica.io/delgadoforcongress/
And the Clinton Democrats hold their Community Get Together today from 1pm t0 4pm at the West Clinton Firehouse #1 at 219 Hollow Road in Staatsburg.  Their ALL-STAR lineup includes Tish James, Lacey Delgado, Karen Smythe, Didi Barrett, Tom Mansfield, and Jeffrey Martin.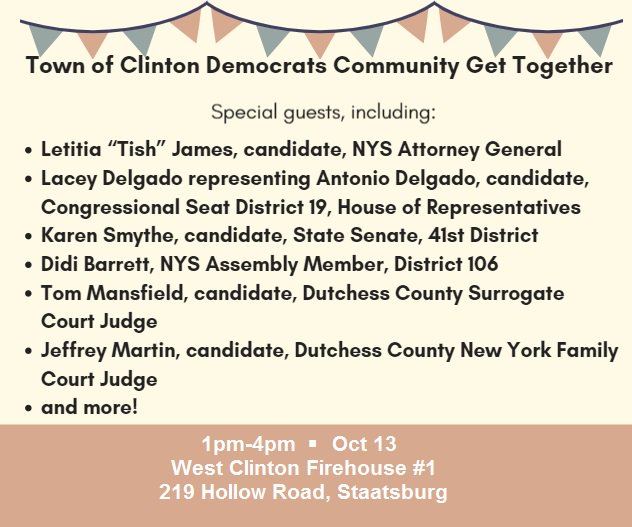 Let's keep working to Fire Feckless Faso and elect Antonio Delgado.  Phonebank & canvass…